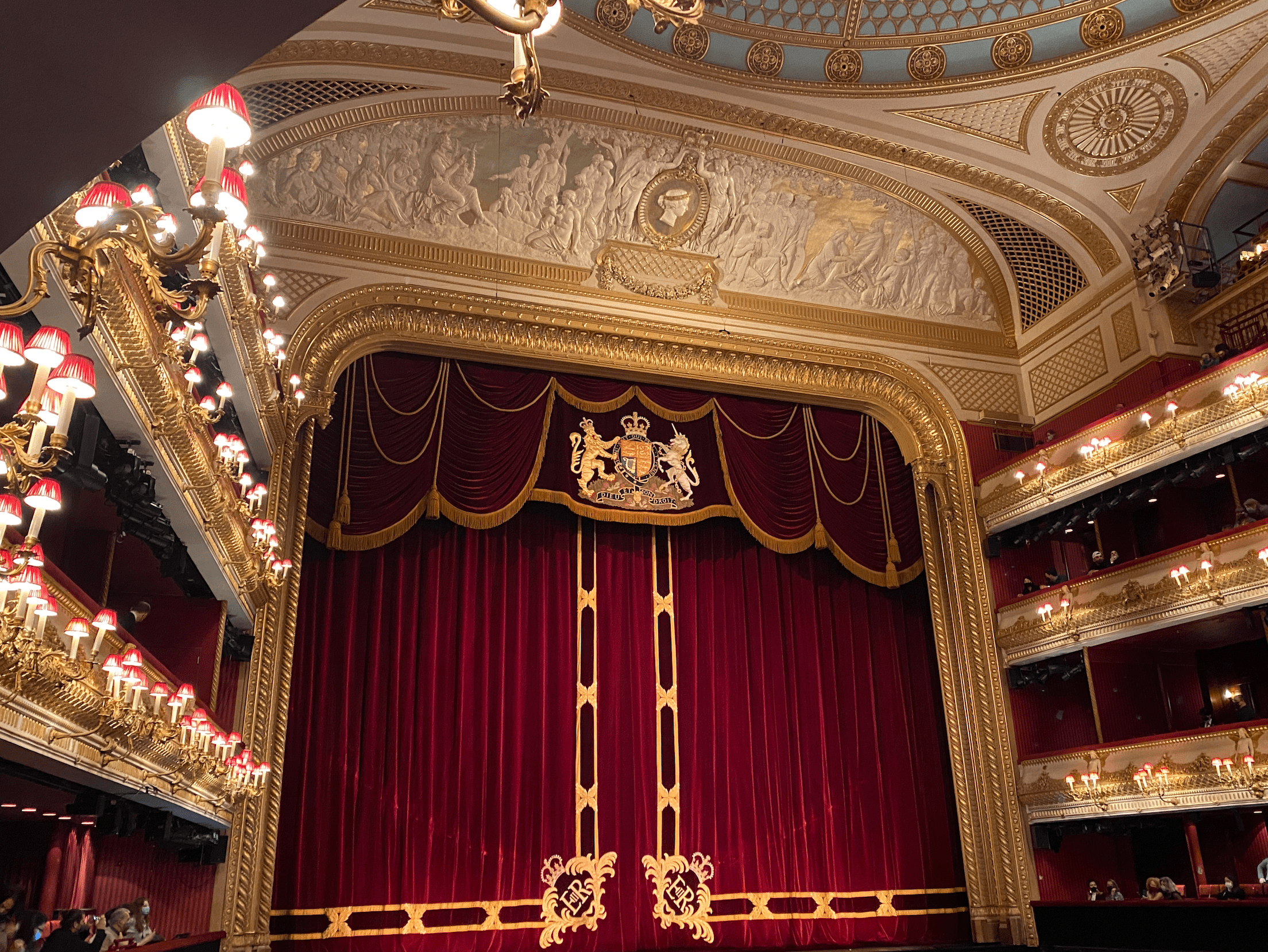 It was a sound that made the mind's eye think of a dark, cloud-filled sky cracking open to release heavy, quenching, monsoon raindrops falling onto dry, parched, cracked desert ground.
It was a sound that broke through silence, flowing swiftly, soaking into the ground, feeding the spirit.
From every direction, through every sense, it was a sound so consuming, so desperately sought after, so dearly needed.
Finally, as with the monsoons after a period of intense waiting, it had arrived – a sound that poured down onto the performers on the stage, wave after wave, as though bathing desert flowers thirsty for life.
It was applause, for the first time in such a long, hard, trying time.
London's Royal Opera House was open once more. https://www.youtube.com/watch?v=Z-Gau5cVBu0
In late May 2021, with cautious relief and delight, Covent Garden's centre for the performing arts carefully opened its doors. Returning to its magnificent heart, staring out across the vast, velvety expanse of theatre seating to the Main Stage, one could almost feel:
the moment when sleeping lights were re-awoken to reveal the grand theatre shaking awake after a lengthy hibernation,
the moment when the stage was quietly stepped upon with a gentle tap-tap-tap from each touch of the pointe shoes,
the moment the orchestra pit first filled with fresh, flowing sounds of musical instruments warming up, marking the end to a year of silence,
the moment hundreds upon hundreds of plush, red velvet seats were lovingly dusted and tied off with ribbons to welcome a 50% capacity limit audience home.
Finally, the lights glowing gold readied to be dimmed, the stage stood tall and proud dressed for the occasion, and the orchestra was anxious to start. The audience looked at each and every detail, taking the 'here and now' in with a quiet intensity, an audibly beating heart, a hint of a smile, a feeling of freedom.
Showtime. 21st Century Choreographers was about to begin.
As the curtain rose the feeling of anticipation, excitement, relief, and gratitude of each and every performer was evident as they stepped onto the stage with a distinct sense of purpose. Together, once more.
It was impossible to watch on and not wonder 'how did they do it?' How did they manage all these months, unable to be together, to train together, to perform together, to practice together, to laugh together, to bond together, to feel appreciated and adored?
In the early months of the pandemic awe-inspiring videos were shared around the world, our small screens filled with images of professional dancers training in their homes, on their balconies, in empty streets. Videos of hope. Videos of solidarity. Videos of remarkable creativity not only in dance but in determination. But then the music seemed to have stopped. Life in unknown, uncertain times stretched on far longer than the world ever expected, putting lives and livelihoods at risk far more severely than ever imagined.
For those in the performing arts worldwide, COVID19 forced them to find ways to stay fit, to stay focused, to stay hopeful that their careers would return to the stage.
How does one keep strong and supple when they cannot stretch?
How can one be creative when there is no reason to create?
How does one feel inspired when they cannot feel the presence of an audience?
How does one know when to move when they cannot hear the music?
How does one take a bow when surrounded by silence and empty space?
How can one leave the stage when their finest performance is yet to come?
For months and months and months there were questions, very valid questions, around whether or not so many performers would be strong enough, capable enough, willing enough, to put on their ballet shoes and costumes, and stand under the glowing lights. Ultimately, would performing artists worldwide ever again hear those heavy, healing raindrops of applause.
To be in a live audience again, to feel a rebirth taking place, was an absolute gift. A sense of blessing and gratitude was omnipresent – being able to be there, seeing and feeling it all in three dimensions, full of life, full of music, full of grace. With each performance the dancers were showered with applause, and more, and more. The orchestra performed magnificently, each and every piece played with a distinct sense of joy and relief. It was magical to experience months of dry, deafening silence being filled by floods of clapping, to feel the feeding of the starved spirits of the performers. For the audience, it was like rain washing dust off of one's heart…
The pure magic of the moment brought to the fore a deep sense of release, a reminder of all that we have all been starved of.
We have all endured a year+ of suffering, of loss, of deprivation. While we have found ways to become comfortable in the discomfort zone, this discomfort cannot, must not, become the norm. Nothing about this time, this way of living, is normal.
As our shared world slowly, cautiously re-opens, returning to the stage will require of us all a readjustment to the sound of the music, the brightness of the lights, the presence of an audience, the test of our strength and stamina to continue dancing. It will not be easy, it will not be comfortable, it will often feel unnatural, but we will dance once more – with new steps discovered, new partners found, new purpose in our movements.
And a new sense of gratitude for the healing power of the rain. x
Copyright: ANITA MENDIRATTA 2021