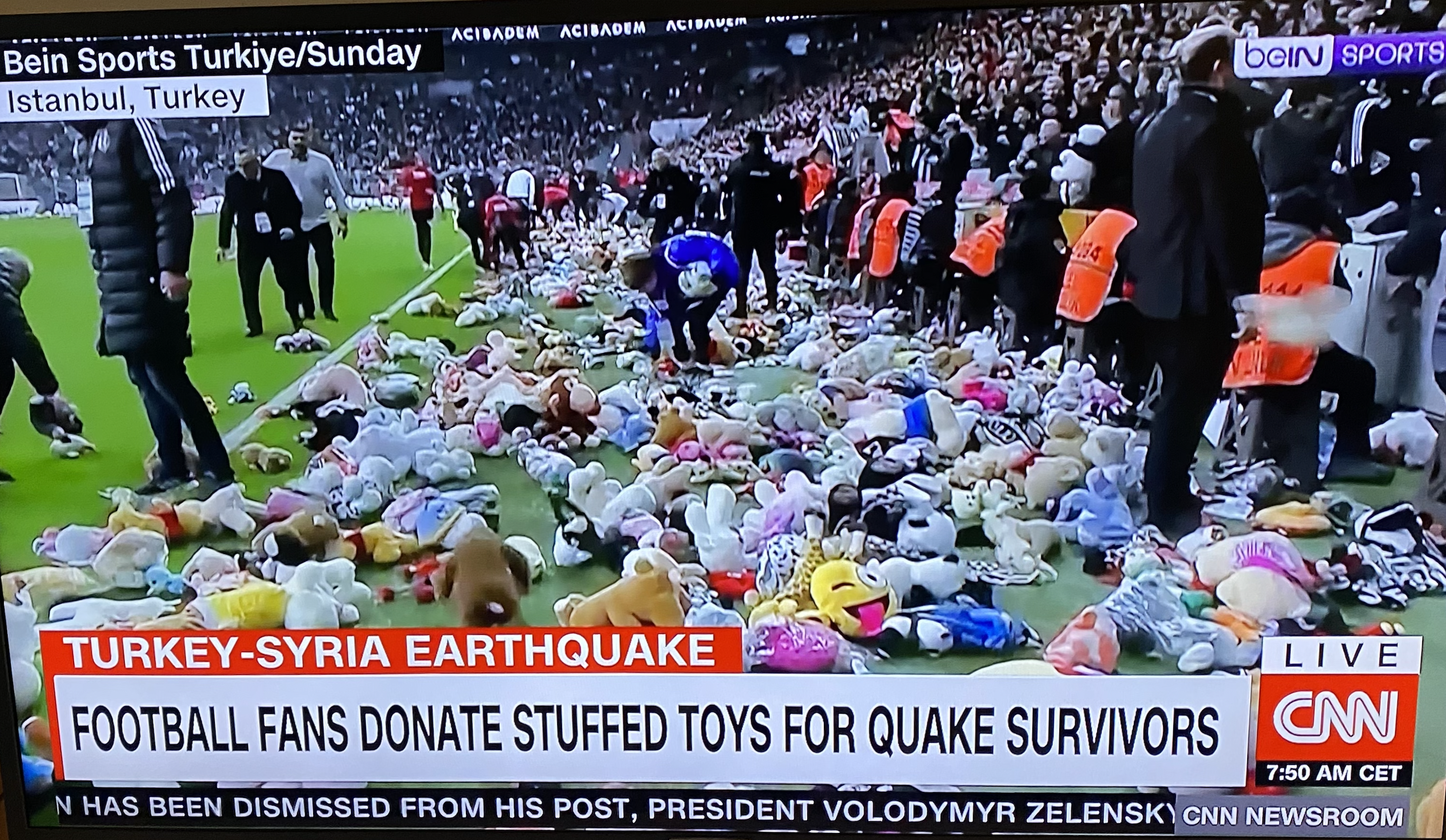 Morning, and a news story spreads across the world. A seemingly simple story coming out of Istanbul, Turkey: CNN INTERNATIONAL: Football Fans Donate Stuffed Toys to Quake Survivors 27 02 2023
A football match. Tens of thousands of people in a stadium. Sports fans excited to see their favourite athletes take the field, make the goal(s).
And then suddenly fans across the stadium start throwing items onto the field. Distinctly foreign objects for a football match. Fluff. Fluff is pouring down. Soft, fluffy toys – stuffed bears. Thousands of stuffed bears are being thrown onto the field.
It was an act highly unusual for a football match as global football regulations impose severe penalties when anything is thrown onto or near the pitch.
But these items, these gifts, were different.
These stuffed toys were for victims, tiny little victims who had suffered one of the greatest losses of their lives. The earthquake on February 06th, 2023 had taken everything. It had taken their home, and for so many it had taken their hopes. To date, it has taken over 44,000 souls across the country. (Source: Turkey Disaster and Emergency Management Authority (AFAD)
These fluffy gifts thrown forward by from football fans across the stadium to help move forward the lives of so many little ones could easily appear to be a simple gesture – soft, fluffy toys in white and blue, in pink and purple, in yellow, green, in beige and brown, all tumbling to the ground in the greatest of spirit, with the largest of hearts, with joy and ease.
These soft, stuffy toys, thousands of them, looking to make their way to little hands desperately needing to hold something special close to their hearts. Something that is theirs.
This simple, sweet little gesture can be looked at as a simple news story that sparks a smile, setting a positive tone for the workday ahead. But there's so much more to be seen, and felt, beyond these fluffy little toys.
These little toys are symbols. They are symbols of hope. They are symbols of healing. They are a hand of care reaching out to someone seeking compassion, needing to be seen, held, cared for.
At the Anita Mendiratta Foundation https://anitamendirattafoundation.org/ we are acutely aware of the huge impact that these small, seemingly random acts of kindness can have on the tiniest of people in times of crisis, how outreach to the tiniest of hands can provide strength to the most broken of hearts.
Which is why as soon as the news story broke the critical role of these toys was recognised, even if the gift givers themselves did not realise their significance. These toys are, in fact, tiny little sponges – little sponges that are going to soak up so much fear, and so many tears, from so many small children. In their own wooly way, they will block the cold, they will banish the loneliness, they will be the safe companion children need. In doing so, these toys will be a vital part of the healing of these tiny, wounded souls, victimised beyond comprehension by the falling apart of their world. Their healing will help sooth the hurt of their wounded families, their guardians, their community.
It is so easy to underestimate in times of crisis how even the smallest gestures of kindness can have the greatest healing power. The impact is beyond measure. These gestures, these simple gestures, see what is impossible for many to see: how a gentle touch of the shivering hand of a small child can help them know, and feel, that they are not abandoned, they are not lost. They are safe.
These little toys are going to sooth the nervous systems of the young children that hold them, children that have spent the last three weeks in tears outside of their homes now heaps of rubble, outside of their comfort zones, outside of their safety, outside of anything they knew that loved and protected them.
These little toys are going to become their homes.
A simple gesture – a toy – thrown onto a football field by people who simply wanted to show that right here, and right now, they care.
And what better way than with a bear hug. x
Seeking a safe, trustworthy way to help those suffering the impact of the earthquake in Turkey and Syria? Please click on CNN IMPACT YOUR WORLD: https://edition.cnn.com/specials/impact-your-world
Copyright: ANITA MENDIRATTA 2023