The Kingdom of Thailand Edition in honour of his majesty, the late king Bhumibol Adulyadej
In 2017, as the people of the Kingdom of Thailand grieved the passing of their beloved leader of Thailand for over seven decades, the UNWTO was requested by Ministry of Tourism & Sport of Thailand to create a Thailand-focused TOURISM STORIES book. Uniquely and importantly, the book was to act as a reflection of, and salute to, the development of Tourism in Thailand under the visionary leadership of His Majesty.
Available through the Ministry of Tourism and Sport of the Kingdom of Thailand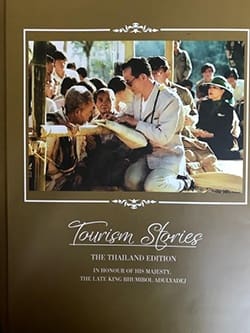 Executive Edited by Anita Mendiratta, and working with the UNWTO, and Ministry of Tourism and Sports of the Kingdom of Thailand, the timing of the book aligned with the United Nation having designated 2017 as the UN International Year of Sustainable Tourism for Development.